Collect
Work With Any Kind of Information
MyInfo makes it easy to gather any type of information in your notebooks. You can add text notes, bookmarks, links to external files, attachments, web snippets, tasks, and PDFs.
Adding new notes is as easy as dragging a file, pasting a web snippet, or just typing your ideas in the note editor.
Capture parts or whole web pages directly from your browser.

Import
Import data from a variety of other applications. Extend import via addons.
Forms
Use entry forms to quickly enter new information.
Attachments
Add multiple attachments to your notes.
Local Copies
Store local copies of files & web pages.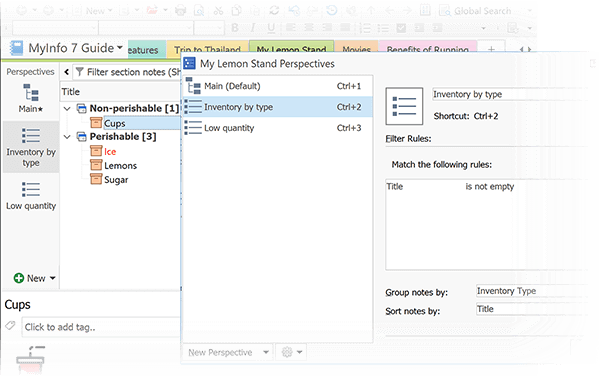 Organize
Be In Charge Of Your Notes
You have full control over the arrangement of your notes. You can organize related notes hierarchically in a tree or use a list to quickly sort and group them by a number of attributes.
Unlike other applications, MyInfo allows you to order your notes manually in the exact order that you prefer.
Divide notebooks into multiple color-coded sections.
Attributes & Tags
Assign attribute values, tags, and metadata to your notes.
Multiple Columns
Show any number of attribute columns in the note list tree.

Perspectives
View your notes from different perspectives.

Conditional Formatting
Automatically format note list on different criteria.
Reminders
Add reminders to your notes.
Edit
Your Own Word Processor
MyInfo includes a powerful text editor where you can edit the text of your notes like a pro.
You can include pictures, tables, lists, rich text formatting, and use text styles for consistent and professionally looking texts.
Note Links
Quickly link between notes wiki-style.
Spelling
Spell-check as you type in more than 40 languages.
To-dos
Insert checklists in your notes.

Text Styles
Keep formatting in your notes consistent.

Word Count
Get statistics for the text in your notes.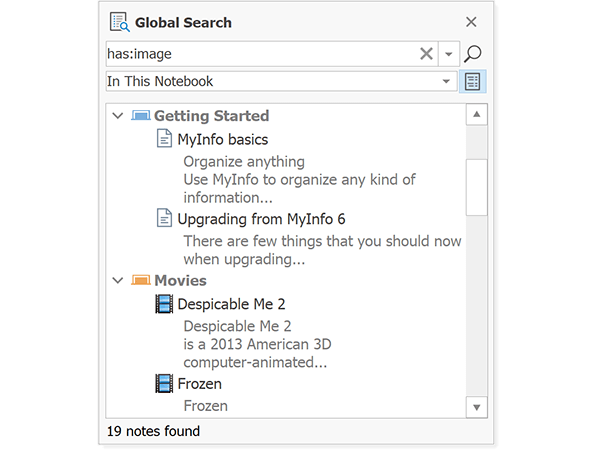 Find
Powerful Filter & Search
Quick Filter makes it fast and easy to narrow down the list of the visible notes.
Global Search allows you to search for notes and attachments in any of your notebooks using a powerful boolean search syntax.

Quick Filter
Quickly filter for notes by tags, title or other attribute.
Advanced Operators
Use advanced search operators to find notes containing specific attributes or type of content.
Note Backlinks
Navigate and quickly jump between interlinked notes.
Search Everywhere
Search in all notebooks, not only in these open in the application.
Search in Attachments
Find texts in attached PDFs, MS Office documents, web pages, and text files.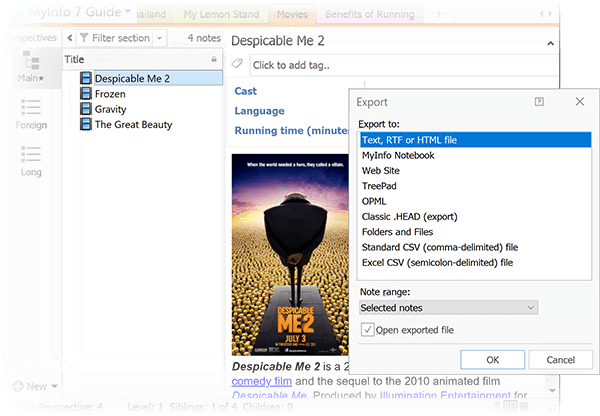 Share
Free to Move Your Data
MyInfo can export your data in different third-party open file formats like HTML, OPML and regular files & folders, so you are never locked-in.
Productivity
Multiple Windows
Open multiple windows and work on different notes & notebooks at the same time.
Undo & Backup
Undo any change and always have multiple backups of your notebooks.

Customize
Customize toolbars, menus, and keyboard shortcuts. Use templates.
Encryption
Password-protect your notebooks with an advanced encryption.

Portable Edition
Install MyInfo on a USB/flash drive.
Your Data. Your Rules.
Cloud can be a dangerous place for your notes. These services can shut down, get brought, get hacked and leak your sensitive information to the public. They can lock you in with no easy way to export your data.
In MyInfo, your data sits only in your own computer. Never leave your life's work held hostage by the cloud again.

Full Control
Your data is stored on your computer and you always have full access to it.
You can encrypt, backup, export, or share your notes with anyone. It's your choice.

Always Available
You do not need Internet to work with MyInfo. It works completely offline. Internet and service issues will never be your problem again.
Work with your notes anywhere, anytime.

Total Privacy
We have no access to your notes. Period.