MyInfo is the most versatile organizer for Windows
Organize anything easily. Collect and edit notes, links, files, and to-dos. Find information fast. Take control of your projects, knowledge, and collections.
Fully featured 30-day free trial. Requires Windows 7 or newer.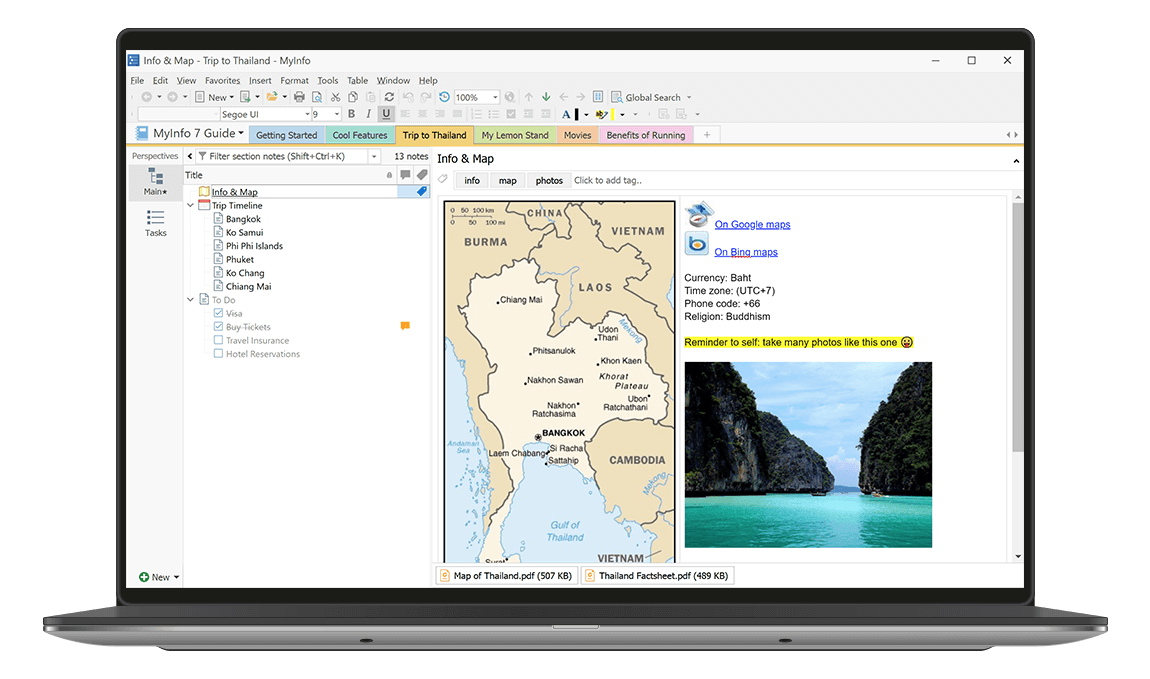 Organize Information Your Way
In MyInfo you are free to organize things your way. Order notes manually and automatically. Assign tags and attributes. Use entry forms and type free text. Create notes from templates and create them from scratch. Search in notes and filter them directly in the note list.
Nothing is forced on you. MyInfo offers you the tools to set up your own workflow.
See more features
How it Works

Collect
Type notes, capture web snippets, drag files.

Organize
Divide notes into sections and notebooks. Add tags and meta-data.

Edit
Write rich formatted notes with links, images, and tables.

Find
Quickly find notes in one or more notebooks.

Share
Export your data to a variety of third-party applications. Send notes to friends.
MyInfo is an impressive tool for students and researchers [and all others] who want to take the next step beyond file cards.

Your Data. Your Rules.
Cloud can be a dangerous place for your notes. These services can shut down, get brought, get hacked and leak your sensitive information to the public. They can lock you in with no easy way to export your data.
In MyInfo, your data sits only in your own computer. Never leave your life's work held hostage by the cloud again.

Full Control
Your data is stored on your computer and you always have full access to it.
You can encrypt, backup, export, or share your notes with anyone. It's your choice.

Always Available
You do not need Internet to work with MyInfo. It works completely offline. Internet and service issues will never be your problem again.
Work with your notes anywhere, anytime.

Total Privacy
We have no access to your notes. Period.