Do you need a special dungeon master software for your campaign?
Being the game master (GM) or the dungeon master (DM) behind the dungeon master screen can be both pleasurable and exhausting. The game-master has the biggest responsibility in the role-playing game and has to be well-prepared for the session and to be a good improviser when the party does something unexpected.
MyInfo could not improve your improvising skills, however, it could help you be more prepared for your next game and keep your campaign in control.
MyInfo is a dungeon master software that helps you create, organize and maintain your role-playing campaign. It offers you a wide range of tools, and it's clean and easy-to-use interface will help you unleash your creativity.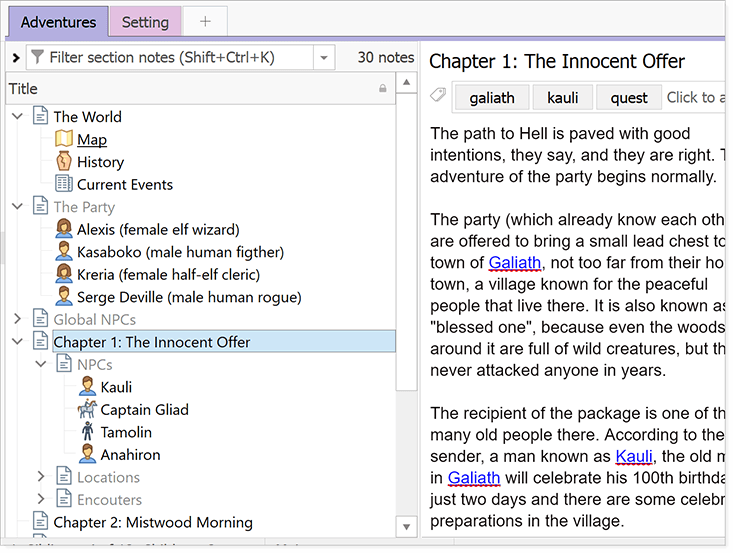 This is how MyInfo will benefit your game mastering:
Organize NPCs, maps, monsters, rules, notes and encounters.
Store all campaign information in a single file.
Create separate note for each character (player or NPC).
Print handouts.
Draft new campaign structure in an outline format, before filling the details.
Used by the Best Game Masters
I love MyInfo. [...] I tried using a GM wiki, but I prefer a different tool, MyInfo. I use it to manage all the details of my campaigns, adventures, NPCs, encounters and game worlds. [...] MyInfo has been my GM tool of choice for several years running.
MyInfo Highlights

Full-featured note list
You can format items in your note list with different fonts and colors.

Rich text editor
Edit and format your pages with an easy-to-use text editor. Use rich formatting, pictures, tables, and links. Create bulleted and numbered lists.

Web clipper
Capture web pages, PDFs, and bookmarks with game-related content directly from any browser.
Auto-updatable links between notes
Quickly link between notes by typing @ and a part of the note title. MyInfo will automatically keep link titles up-to-date, if you rename the target note later.
Note backlinks
Navigate and jump between note references with MyInfo bi-directional linking.
Transclusion
Clone the same note to multiple locations in your campaign notebook.

Full-text search
Easily find information in your campaign and DM notes.
Internal web browser
Visit GM online tools directly in MyInfo.

Tags & comments
Tag and comment your notes.

Attachments
Embed spreadsheets, PDF documents or any other files in your notebook.
Templates
Create templates for your monsters and NPCs, so you don't start each time from scratch.

Export
Export separate handouts or the full campaign into a fully-functioning website.
Quick-start guide
Getting started with organizing your campaign with MyInfo could be quite easy. All you need, is to create a new notebook for your campaign and outline its structure in the note tree list. You can use the same structure as shown in the screenshot above, or you can create your own structure, according to your preferences. For example if you run a site-based campaign, you will organize your information by sites (or if you run event-based campaign, it will be organized by events).
After you outline the structure of your campaign, you can begin to add content to it. Enter all the information you have about major NPCs, general plot, party members histories and intentions.
Once your campaign is up and running, be sure to reflect all changes in the world and in the story, caused by the players. It could be useful to keep a log of the events from each session. This way you will have not only a good story, after the campaign is over, but it will also serve as a handy reference for the events that happened in the game. This way you will have a consistent story, because you can always refer to the campaign log to see the name of a NPC you made on the spot three sessions ago and which appears again in the game.
Alternative ways for organizing your campaign with MyInfo
A Guide To Session Notes, by Scot Newbury from RolePlayingTips.com shows how game masters and players can keep track of their campaigns.