MyInfo 6 is here! Yep, if you are already MyInfo customer you know about it. But for the rest of you it's news. And the waiting is worth it, believe me!
So, what's new in MyInfo 6?
Hoist [Professional edition]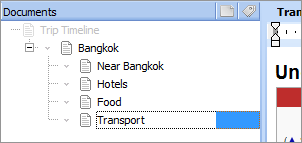 This is a convenient command that allows you to focus on a specific part of the topic, by hiding all documents that are not important to you in the moment. Just select a document in the tree, click Hoist, and all documents that are not children or direct parents of this document will disappear from the tree.
Reminders

This was another very popular feature demand: add reminders to the documents. Here we go: in this version you can assign a reminder to any document and if it is open in MyInfo when the time comes, it will show up in the Reminders dialog.
Multiple document windows
Many people use MyInfo for research and writing and they find it hard to work with two documents from the same topic in MyInfo 5. That is why, we've included multiple document windows support in MyInfo 6. If you click on document title, it will open as separate, read-only windows, which you can view while editing another document in the same topic! And you can open as many documents as you want.
Better linking
We've greatly improved linking between documents in MyInfo 6. Now you have two easy ways to link to other documents.
Quick/wiki links shows you a list of all links in the topic, while editing document text. Just type [[ and some text after it, and it will show you all documents, beginning with this text: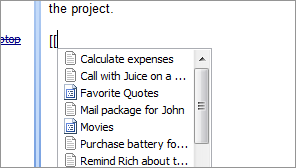 Now, just select any of them and MyInfo will create a link to this document in the text editor.
And if you prefer using the Insert Hyperlink dialog for this purpose, you will be pleased to learn that it now allows you to link to documents in other open topics too!
MyInfo is now Unicode
Don't know what Unicode is? Don't worry, it's just a fancy word, which means that MyInfo now works with multiple languages anywhere in the application. You can mix Latin, Cyrillic, Chinese and any other characters in the text editor, tree, attributes, filters and topic file names.
Ms Word outlines import and export
In this version, if you export MyInfo topic as RTF text file, it will retain its documents structure. Open it in Ms Word, go into Outline mode and you have your outline as it was in MyInfo.
The other way is possible too: export Ms Word document as RTF file, import it in MyInfo, using Import > Ms Word outline, and MyInfo will create a nicely looking topic, preserving the Word document hierarchy.
Workspaces [Professional edition]
MyInfo workspaces allow you to save your working session and restore it later. It remembers all open topics and document windows for a later re-use.
They are handy, if you group your topics by a theme, so for example you can create "Project session" with all topics related to this project and open them anytime you like.
Verified backups
Extra security is always welcome. This is why, starting form this version, MyInfo will keep two backup copies per topic. The second one (.verified) will be created only after the topic is successfully open, thus preventing corrupt MyInfo topics from overwriting good backups.
More new features and improvements
Some other new features and improvements in MyInfo 6:
Replace text in all documents [Professional edition]
Paste clones
Page Setup dialog
Updated state icons and over 60 new state icons
Word 2007 and Word 2010 .docx support
Go to next/previously visited topic
Recently used search queries list
Go to previous/next clone shortcuts
Favorites toolbar
Go to first/last, first sibling/last sibling document shortcuts
Toggle last visited two documents, and last visited two topics
More date/time formats
Smart date/time input
Image hyperlinks
Many bug fixes
As always, you can try out a full featured, 28 day trial copy of MyInfo 6 from our download page.