Today is a momentous day! It's time to take the wraps off something incredible that changes the world of personal information management for Windows: MyInfo 7 is here!*
There's a ton of amazing features packed into this release and we will write a lot about them. If you'd like to start using it right away, feel free to jump ahead and download MyInfo 7 trial now. For everyone else, it's our great pleasure to share with you how awesome MyInfo 7 is.
Speed
We get this comment a lot: MyInfo 6 is perfect, but it starts slowly with many and large files and it takes a while to save large topics. Well, not anymore! MyInfo 7 uses a brand new engine and file format making everything super fast!
MyInfo 7 starts quickly no matter how much notebooks are open and no matter how many notes they have!
Hitting the Save button no longer takes time.. because, actually, there is no Save button! All changes to the files are now saved automatically. But don't worry, now you can undo anything, so you are free to experiment and revert any mistakes easily!
Beautiful User Interface
MyInfo user interface has been completely redesigned to be more pleasant to look at and to scale great on high-DPI screens.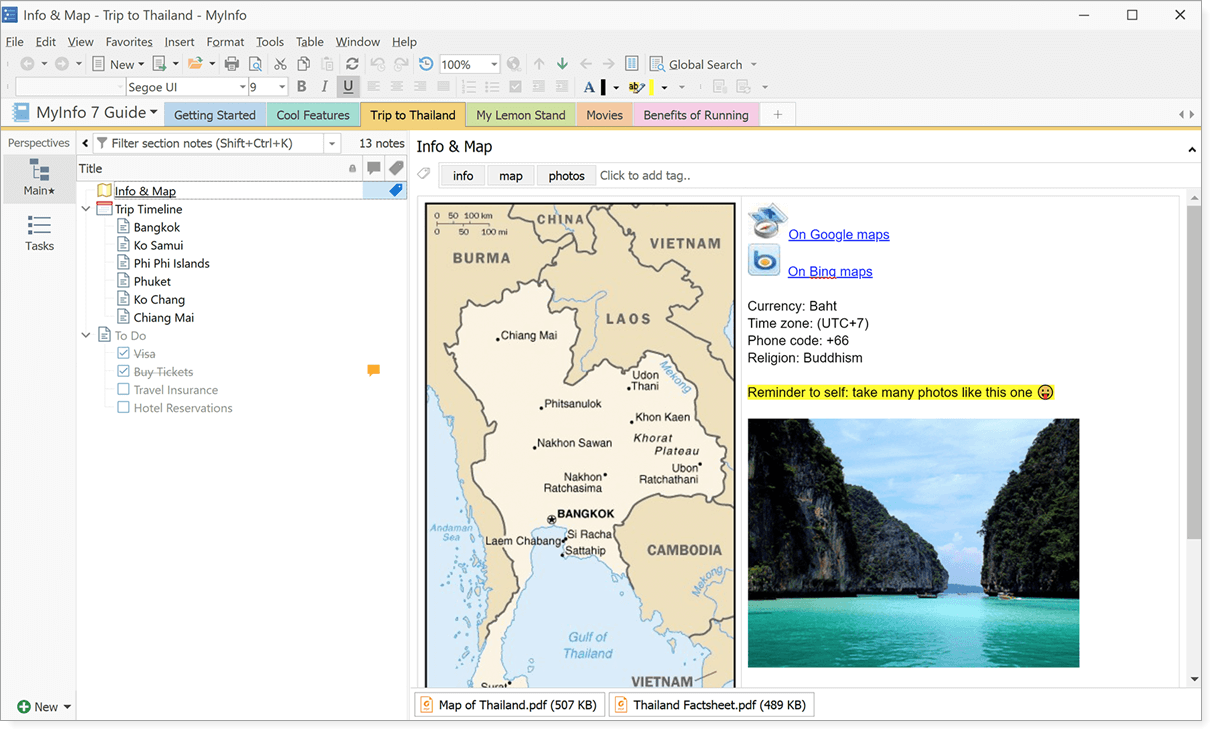 Perspectives
Perspectives are saved filters on steroids! They are now located next to the note list for easier access and make seeing parts of your notes based on different criteria a breeze.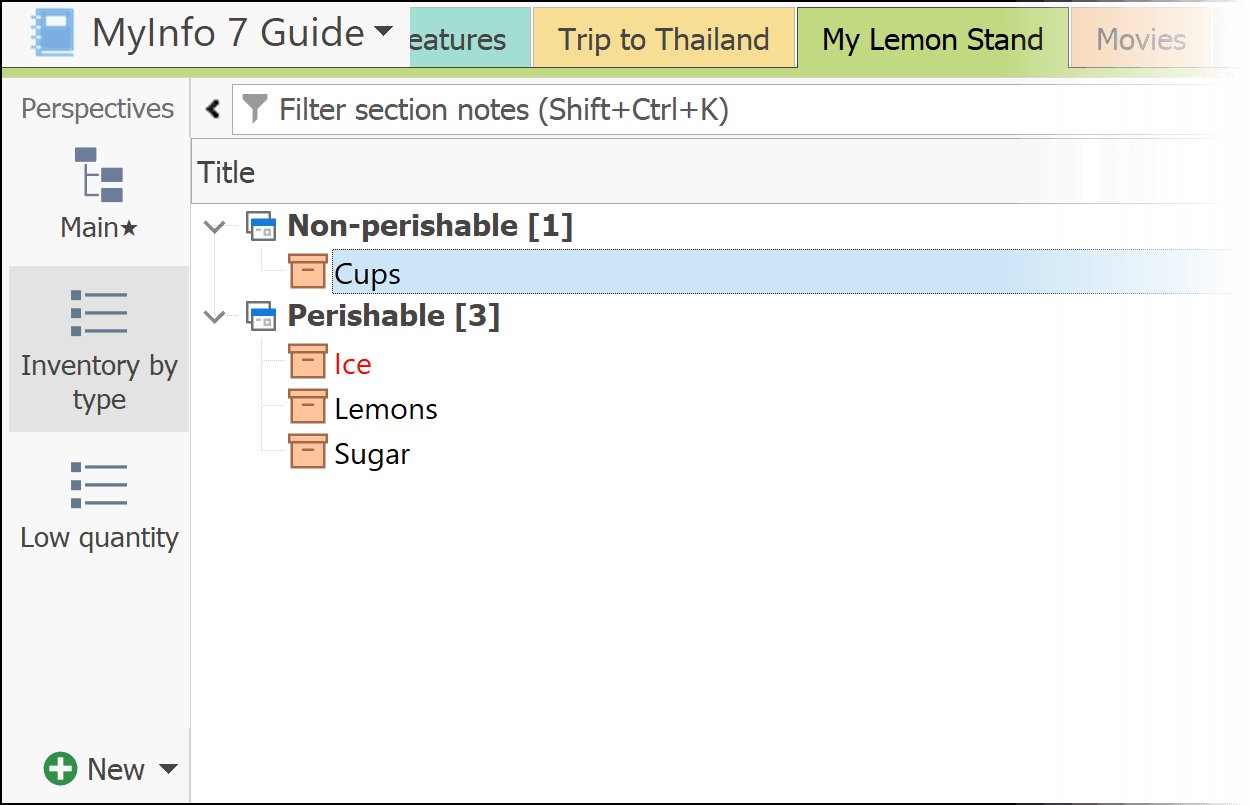 Formatting Rules
Automatically format note titles if they meet certain criteria.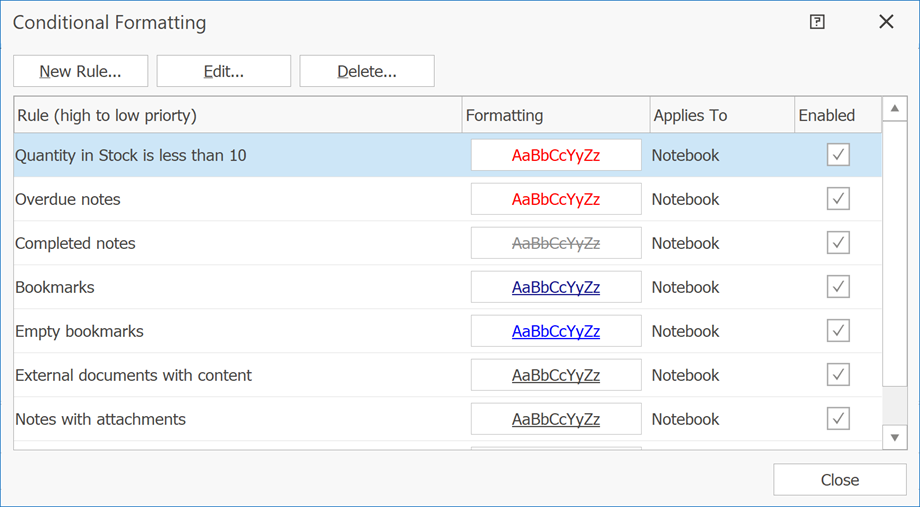 Multiple Sections
You can have multiple sections (topics) per notebook, so you can share perspectives, templates, clones, and links between them.
Quick Filter
Find notes quickly by typing their title, tag or using any advanced search query, without leaving the note list.
Search in Attachments
MyInfo now searches inside your attachments. It recognizes PDFs, Ms Office documents, web pages, and text files.
External Files
Link to external files and preview them directly in MyInfo. Keep research notes and assign attribute values without storing the file in the notebook.
And Much More!
Multiple attachments per note with a larger, 100 MB maximum size
Note templates are now stored in the file and can contain attribute values and attachments
New attribute types (duration, email, rating, url), and more attribute options (multi-line text)
Titles of links to notes are automatically updated if the target note is renamed
Improved tags pane, multi-tag filter and the ability to pre-create tags without notes
Text styles can inherit another style's formatting and can have a keyboard shortcuts
Store and update external files in the notebook
Advanced search operators (has:) and the ability to perform negative-only searches
Text editor can have different background color for different notes
Restore notes and sections from the notebook's Trash for up to 30 days after deletion
Create todo lists in the text editor
Lock notes against accidental modification
Zoom the contents of the text editor
Create unlimited number of forms
Multiple backups per notebook
How do I get it?
To start enjoying the best version of MyInfo ever built, grab it here:
The trial is fully functional for 30 days, so you have a plenty of time to play with it.
If you are customer of older MyInfo version and you haven't upgraded yet, please contact us. Licenses for existing customers cost $49.99.
* If you were MyInfo 7 beta tester or if you purchased MyInfo 7 upgrade from MyInfo 6 then the general availability of MyInfo 7 is no news for you. We are grateful for your help and support during the beta testing and for buying an upgrade during the limited availability of MyInfo 7! You help us make MyInfo 7 even greater!